What is Thermal Imaging?
Thermal imaging is also referred to as infrared imaging, thermal scanning or thermography. It is the means that enables us to see the infrared parts of the light spectrum.
To the left are two images of a Cummins diesel marine engine being operated during a sea trial. The thermal image is on the left and the Thermal MSX® image is on the right.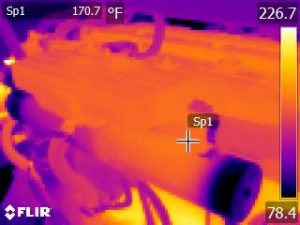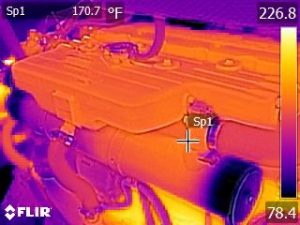 Left image is of a hull thermal image alone and the right image is the Thermal MSX® image.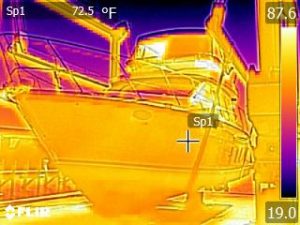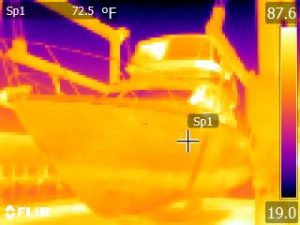 As is evident from the images above the MSX® technology in the FLIR® camera provides a crisp clean image which enables us to better detect and locate potential problems.
Why is Thermal Imaging Important?
Thermal imaging is used by marine surveyors because it allows them to identify problems that would not be identified using any other device or equipment. With marine surveys being done using non-damaging approaches, surveyors do not have the luxury of disassembling components in order to evaluate them. They simply observe to check for misalignment or detect extreme wear on components like alternators, electrical panels and power guiding pumps. Needless to say, if a problem cannot be seen without disassembling a component, the surveyor will miss it.
Thermal imaging enables surveyors to identify potential issues that neither be seen with the naked eyes nor listened to. This includes problems like heat exchangers for the engine cooling systems and the manifolds. Thermal scanning will help spot coolant blockage and have the issue fixed on time before it causes further damage to the engine. Thermal scanning may also be used to inspect electrical panels that power onboard electrical systems.
While you may still need to hire a mechanical or electrical professional when evaluating a boat, thermal imaging reduces the need for hiring any of these professionals.
How Does Thermal Imaging Really Work?
Everything radiates some level of heat. This is what makes thermal imaging the perfect tool for observing temperature abnormalities more so in machinery, electrical tools and solids including wood, fiberglass and light weight aluminum and steel. The best thing is thermal imaging can work in total darkness because it doesn't rely on light.
Other industries use thermal imaging for pre-failure inspections as well as upkeep inspections of their machinery. While thermal imaging is new in the world of marine surveys, it is used widely when surveying business aircraft systems and hulls.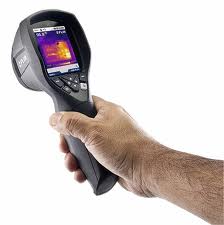 For thermal imaging, a thermographic camera will be needed. This is a tool that is similar to the portable digital video camera. Our team uses the FLIR ® brand infrared camera because they use the MSX ® Thermal Image Enhancement. The MSX ® technology gives more details from the onboard visible light camera to the entire infrared image. This is all done in real time. Consequently, you end up with an all-in-one thermal image with labels, numbers and structural features. From the image you will be able to recognize the object and where the issue is located.
An infrared camera has a special lens that focuses on the infrared light that is radiated by the target objects. With the MSX ® camera there is an added lens which captures digital image and produces 3 images. The FLIR ® software produces an image that can be viewed in 3 formats: digital, thermal and thermal MSX. The thermal MSX image is an overall of the digital image and the thermal image to give an image that is easy to recognize.
1. Digital Image 2. Thermal Image 3. Thermal MSX

The Thermal MSX image actually overlays the digital image over the thermal image to produce an image that is clear and easier to recognize.
So What Are the Benefits of Thermal Imaging?
What are the Advantages of Thermal Imaging?
Thermal imaging provides many benefits in various industries. In the marine industry, there are four key benefits marine surveyors love:
A marine surveyor is able to stay out of danger when examining moving and high temperature components in an engine room. Requiring no contact further means the marine surveyor will be able to safely examine high voltage electrical components.
Thermal scanning records images super-fast. No time is wasted recording stationary targets.
The ability to see thermal patterns will eliminate the need for hiring a mechanical and electrical professional. Thermal imaging will help you see issues without having to troubleshoot or disassemble target components. Thermographic images will help you see temperature anomalies.
Thermal imaging on engines, transmissions, electrical systems, decks, tanks, hulls and electrical devices enables you to identify malfunctioning components. The image will also help you know if there are leaks or delamination. This information is important if you are planning on buying a used boat.
How Does Thermography Make Your Vessel Safer?
Thermography is able to sense abnormal heat thereby helping you prevent fires. Thermography will also help you detect leaking fuel or water. This will help you prevent the risk of an explosion or water damage. Thermal imaging will further help detect temperature anomalies in the engines and transmissions thus helping you avoid expensive repairs. Thermography is also used to identify delamination.
Thermal imaging helps marine surveyors identify issues that cannot be identified through any other way.
At Sun Coast Marine Surveying we use basic attempted and true approach of checking. We rely on such techniques as GRP33 dampness meters as well as percussion soundings. Our use of thermal cameras with MSX ® Imaging is what sets us apart from other surveyors.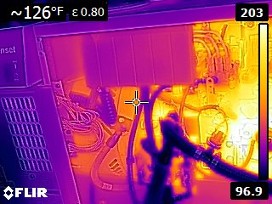 Thermal image of a onboard generator operating under a load.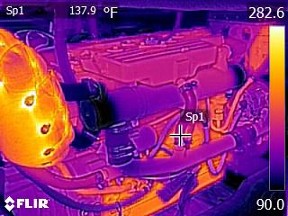 Thermal image of a Cummins Diesel engine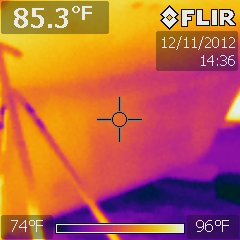 Infrared thermal image of hull delamination on the lower right side of the image.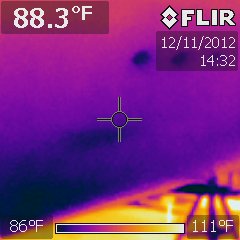 Infrared thermal image of a hull bottom with hidden delamination under the fiberglass